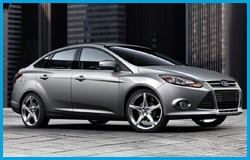 Ford Motor says it's getting enough comments from dealers and customers and even auto writers (but who takes them seriously, after all) that it has just begun offering a manual transmission in the high-end version of the Focus, called Titanium.
Dealers can order the manual now, but probably won't have much of an inventory until mid-March.
Price is the same as for the dry-clutch automatic standard in the Titanium: $22,995 (including shipping) and up. Usually automakers charge $800 to $1,200 less for a manual.
The other versions of Focus that offer a stick shift are the S and SE, and Ford says about 7% of those are bought with the manual. That's strong demand for a stick; Ford had forecast only about half that.
The Titanium's manual gearbox is a five-speed, shared with other Focus models and the Escape SUV being replaced by a new model later this year. Some shift-it-yourself folks might find a bit dated in this era of six-speeds.
Small cars from Hyundai and Kia, for example, come with six-speed manuals. So do the Chevrolet Cruze and Sonic (1.4-liter turbo engine; the base 1.8-liter has a five-speed). Honda Civic and Toyota Corolla use five-speed manuals.
Focus with manual is rated 26 mpg in town, 36 highway, 30 in combined driving -- 1 mpg less than versions with the automatic transmission.
By James R. Healey, USA TODAY
http://content.usatoday.com/communities/driveon/post/2012/02/ford-focus-stick-shift-manual-price-mpg-/1