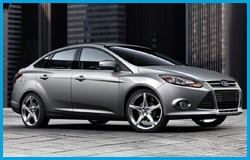 Ford Motor says it's getting enough comments from dealers and customers and even auto writers (but who takes them seriously, after all) that it has just begun offering a manual transmission in the high-end version of the Focus, called Titanium.
Dealers can order the manual now, but probably won't have much of an inventory until mid-March.
Price is the same as for the dry-clutch automatic standard in the Titanium: $22,995 (including shipping) and up. Usually automakers charge $800 to $1,200 less for a manual. Learn more...